Classical music orchestra: how to experience it in Venice
Classical music orchestra and Venice: what a pair!
In truth, all of the art in Venice speaks, and with it comes history. Although it's impolite to say a woman's age, Venice is an old lady: she's over 1,500 years old, in fact. From the architecture of buildings in Venice, to its extraordinary topography of alleys alternating with canals, to the music that sums up all the beauty of the city, Venice is truly a unique place. Imagine crossing the Rialto Bridge and ending up in Campo San Salvador. A campo is a small open space surrounded by buildings. From the Scuola Grande in San Teodoro comes the sound of a classical music orchestra that brings you Vivaldi's Four Seasons. Here, reality surpasses every fantasy.
Beyond dreams: classical music orchestra in Venice
You are truly in Venice, perhaps for the most incredible romantic experience of your life, and the classical music orchestra really is playing the four unforgettable concertos by Vivaldi. This is an opportunity you can't miss, and here's why. 
First of all, the place:
the first stone of the headquarters of the San Teodoro confraternity was laid at the end of the 16th century. Completed around 1692 through the work of three architects— Antonio Sardi, his son Giuseppe, and Baldassarre Longhena—the school now hosts the

classical music orchestra "I Musici Veneziani"

: the grand staircase and the monumental entrance of the chapter house are unforgettable.
Secondly, the concert itself:
it is not just a

classical music orchestra in Venice

. When you attend a concert by "

I Musici Veneziani

" you immerse yourself in the history of "

La Serenissima

". This is a unique experience with an

orchestra in period costumes

that faithfully recreates the Venetian baroque, the golden age of the Republic.
Not only Baroque: Venice and its classical music orchestra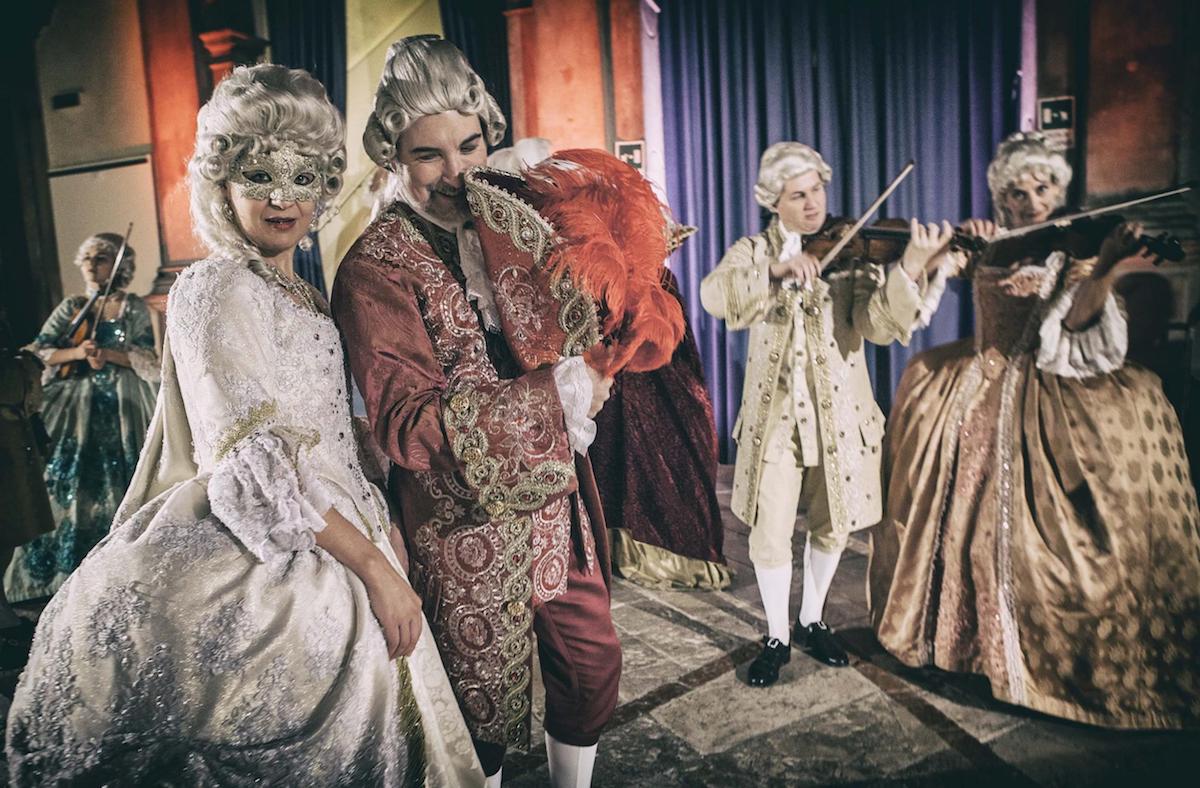 The classical music orchestra "I Musici Veneziani" invites you to appreciate history, and not only the history of Italian opera. For example, the Baroque and Opera show brings you the heights of European musical composition, such as arias by Mozart and Offenbach, Cimarosa, Rossini, Verdi and Puccini. This is your chance to participate in an unforgettable event: a concert performed by professionals of the highest level paying a tribute to the very genre of classical music.
Just a five-minute walk from the Rialto Bridge, in front of the Church of San Salvador, the Scuola Grande de San Teodoro is home to the classical music orchestra "I Musici Veneziani", contact us to book your tickets and experience a truly incredible evening.