Spring in Venice: tips for a pleasant weekend
The season of life, spring in Venice
In "The Birth of Tragedy" Nietzsche spoke of the "powerful approach of spring penetrating all nature with joy." And it was precisely in the spring, in 1880, that Nietzsche spent his first stay in Venice, enjoying the mild climate of the Mediterranean city at the Berlendis Palace on the Rio dei Mendicanti. And if you like to walk, just like Nietzsche, spring in Venice is perfect. The flowers and the smells, the sunlight breaking on the surface of the water, the canals bordering the calli … all sights not to be missed!
Spring in Venice: the perfect time of year to visit one of the most beautiful cities in the world
You already know that Venice is one of the most visited cities in the world, but did you also know that spring is the best season to take in its beauty without being overwhelmed by the hordes of tourists looking for the perfect selfie? You can take a leisurely walk without the risk of being thrown into a canal and without wasting time in long queues. You absolutely must visit the famous buildings of Venice, but all the more you must discover spring in Venice.
Sant'Elena gardens: spring in Venice
You can find these gardens tucked away from the tourist circuits, located on the island of the same name in the Castello sestiere. Walking in the shade of maritime pines, you can reach the church which contains the relics of the saint, mother of Constantine.
Giardini della Biennale gardens: spring in Venice
Not far from the Sant'Elena gardens are the Giardini della Biennale, also known as Napoleon's Gardens, created at the beginning of the 19th century by order of Napoleon. In this open-air architectural museum you can enjoy a tour of the pavilions, each welcoming a different nation.
Garden of the Discalced Carmelite Friars: spring in Venice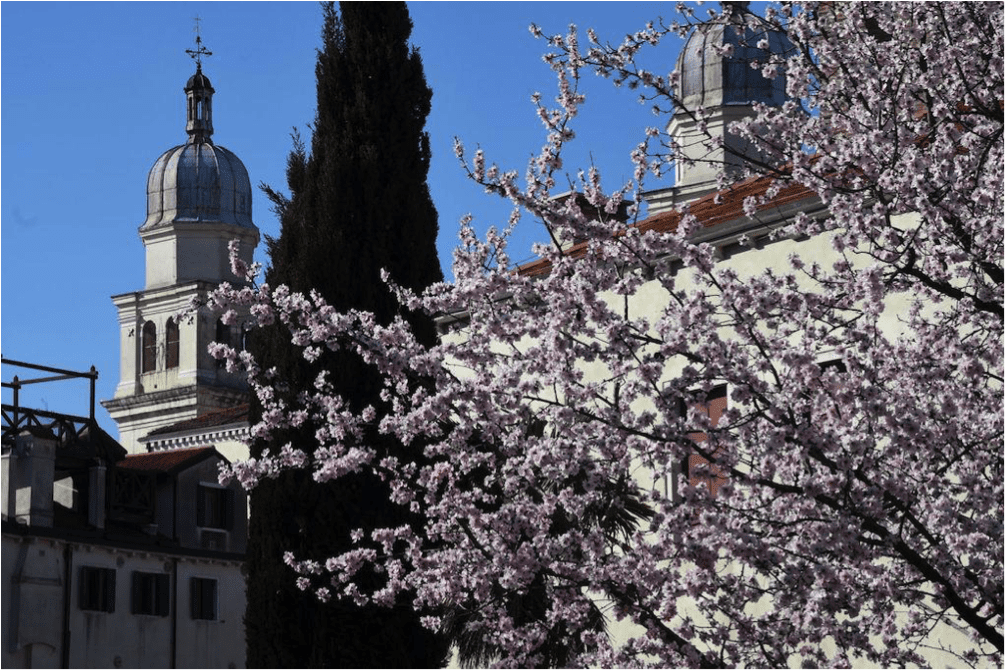 A few steps from the Santa Lucia train station, you can immerse yourself in the peace of a secret garden, the garden of the Discalced Carmelite friars. Listen to the "mystical" silence and enjoy the scents of medicinal and aromatic herbs in an enchanted place, far from the noise of the outside world. But spring in Venice is not just fragrances and walks …
The evening is filled with music: Venice in spring
Let us return to Nietzsche: "When I seek another word for music, I never find any other word than Venice". Venice is music, and you cannot miss the best classical music concerts in the city. At the Scuola Grande di San Teodoro, the orchestra of "I Musici Veneziani" will offer you the best of classical music, retracing the greatest highlights. And don't forget, Antonio Vivaldi was a Venetian!
And so, from among the four seasons, choose to visit Venice in spring!