Where to see the most beautiful concerts in Venetian costumes
The architecture and music of the Baroque: musicians perform concerts in Venetian costumes
Venice, the city of love! Have you ever taken a gondola to the Rialto Bridge? Have you gone round the "bacari" for the typical Venetian "cicchetto" (an appetizer accompanied by a small glass of wine, called the "ombra")? Wonderful! But now, it's time for something else, because evening is on its way. Have you heard about the period concerts in Venetian costumes? No? It's a chance to experience the baroque magic of Venice. Wondering what that's all about? Let's explore it together!
The ideal place for concerts in Venetian costumes
Take the boat on the Grand Canal and get off at the Rialto stop. You are in front of the Palazzo Dolfin Manin, located in the San Marco district. The street "Calle Larga Mazzini" leads you to San Salvador church; stop in a moment to admire the beautiful polychrome marble flooring and the "Annunciation" by Titian. Now, you've arrived in Campo San Salvador square, at the Scuola Grande di San Teodoro. The Baroque façade of the building speaks of the extensive history of its construction, started in 1580 and completed over 100 years later in 1692, through the work of three architects: Tommaso Contin, Antonio Sardi, and, after his death, his son Giovanni. In the evenings, the Scuola hosts the Musici Veneziani, who perform concerts in Venetian costumes.
Concerts in Venetian costumes: faithful to tradition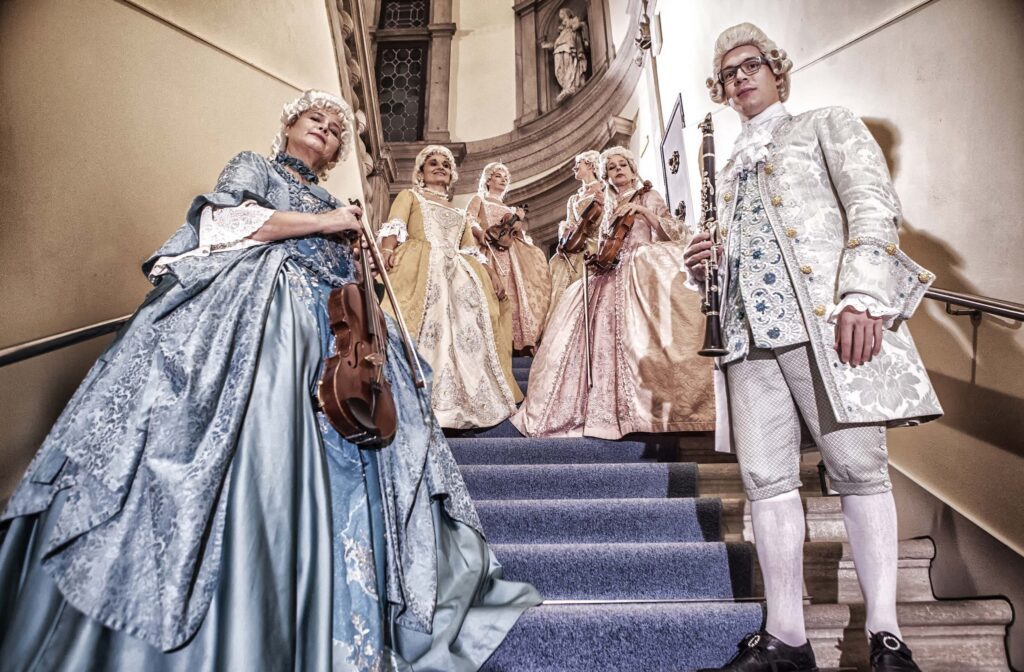 The orchestra of I Musici Veneziani was formed in 1996 and offers its audience a special experience of classical music from the 17th to the 19th century. In fact, the orchestra's professional musicians have performed over 5,000 concerts, ensuring an execution that is truly faithful to the original. So, why do the musicians perform concerts in Venetian costumes? The answer is simple: with costumes reproduced from those of the Baroque period, according to original drawings, the concert is true not only to musical tradition, but also the period clothing it was performed in! Would you like to know how that's possible? It's thanks to the collaboration of the Atelier Nicolao in Venice, a traditional design studio that for 40 years has been making period costumes for the theatre. 
Concerts in Venetian costumes at the Scuola Grande di San Teodoro: the season
The door of the Capitular Hall of the Scuola Grande opens wide to offer you concerts in Venetian costumes, giving you the chance to experience a tour of Baroque Venice. Here are some of the shows of the 24th season:
The Four Seasons by Antonio Vivaldi 
Baroque and Opera  
For information on shows and ticket purchases, visit the Concerts section of the website. Contact us to organize your Venetian night out!