Spending Christmas in Venice: the 5 best things to do
Do you want to spend Christmas in Venice? Take 5 minutes to read some helpful tips
1) Enjoy the beauty!
In fact, when you decide to spend Christmas in Venice, you have to take into account that the first thing to do is go to a hotel. "But how?" you will think. It's easy, go to the hotel, leave your luggage, close the bedroom door behind you and go out to walk through the calli. Of course, that's not really advice … it's an order! The Christmas lights are doubled, reflecting off the gentle waves of the sea, which gently penetrate the city through the canals. Let yourself be lulled by the true spirit of Christmas, through the lights that will make Venice a magical and enchanted place.
2) If you are planning to spend Christmas in Venice, don't miss the Christmas markets!
The holiday season in Italy goes from Christmastime through the Epiphany on January 6, and it's impossible to think of the perfect holiday itinerary without including at least one visit to a Christmas market. And if you intend to spend Christmas in Venice, things are no different. Campo Santo Stefano becomes a real Christmas village with thirty little wooden houses, where you can find the excellence of Venetian craftsmanship. From Murano glass to the typical masks of the Venetian carnival, ceramics, jewelry and traditional local food. Do you have any doubts about where to spend your winter holidays in Italy? Well, Venice is the answer you are looking for.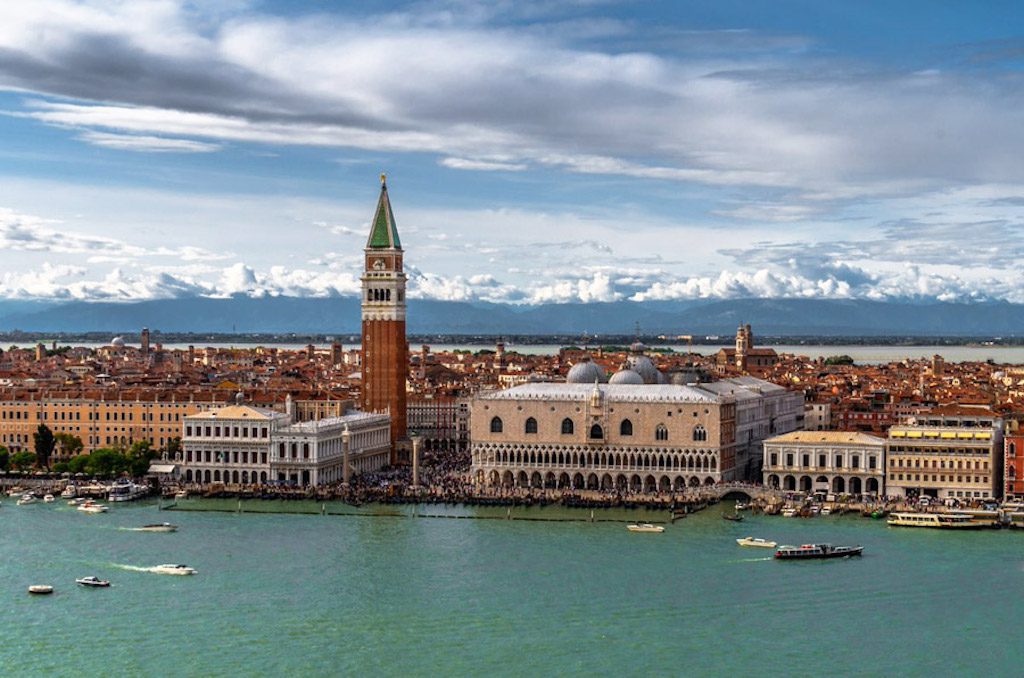 3) How about ice skating?
Spending Christmas in Venice is also about having fun! Take off your shoes and put on your ice skates; Campo San Polo is waiting for you. It's the largest square in the city of Venice, transformed into a large ice rink. Have you finished your lunch and tasted the delicious Venetian-style liver? Well, now it's time to digest: have fun! A little physical activity is needed. Come on, at the end of the skating you can enjoy a cup of steaming hot chocolate.
​​4) You have won a trip to the "bacari"
Hot chocolate not enough for you? Do you need more heat? Ok, that's understandable. Resume your Venetian stroll and take a walk in the "bacari," the typical Venetian bars, where you can experience hospitality and a certain social warmth, but that's not all … a little alcoholic heat does no harm either! If you want to spend Christmas in Venice, you will certainly meet some "osti" (innkeepers) who will serve you small samples of good food, in particular an excellent spritz or delightful "cicchetti" (small glasses of wine), the famous "ombre di vino". Enjoy!
5) The best concerts in Venice
Spending Christmas in Venice means spending wonderful evenings enjoying the many concerts organized in the city throughout the entire holiday season. But, without a doubt, to have an unforgettable experience, you cannot miss the shows offered by I Musici Veneziani, an orchestra dressed in costumes from the Baroque era. You'll discover the beauty of classical music in the extraordinary setting of the Scuola Grande di San Teodoro, surrounded by the incomparable notes of Antonio Vivaldi concerts and famous arias from Giuseppe Verdi operas. What would winter holiday time be without the concerts of I Musici Veneziani?
So what are you waiting for? Come spend Christmas in Venice and book your vacation in Italy.