The best shows to see in Venice during your holidays
Italian holidays, finally! Shows to see in Venice
After months of hard work in front of your computer, you can take a well-deserved rest. Now is the time to visit one of the most beautiful cities in the world: Venice, the city of love! You can get lost in the calli, the small streets that make up the intricate labyrinth of the lagoon city; take a ride on a gondola; have an aperitif at a bacaro, a traditional place where Venetians enjoy local wines with the famous small snacks known as cicchetti—it really is a dream! And at night? Keep the dream going with shows to see in Venice that deserve your attention.
Wait a minute—shows to see in Venice, yes, but where?
Just steps from the Rialto Bridge, in Campo San Salvador. Make sure you also visit the Church of San Salvador and The Annunciation by Titian. Here is the Scuola Grande di San Teodoro, a 17th-century building that was the seat of the historic confraternity of St. Theodore, the patron saint of Venice with St Mark. At night, the Scuola is home to the best shows to see in Venice, namely the classical music concerts of I Musici Veneziani, an orchestra of musicians in period costumes that takes you on a journey back to the times of the Republic of Venice.
Shows to see in Venice: a bit of info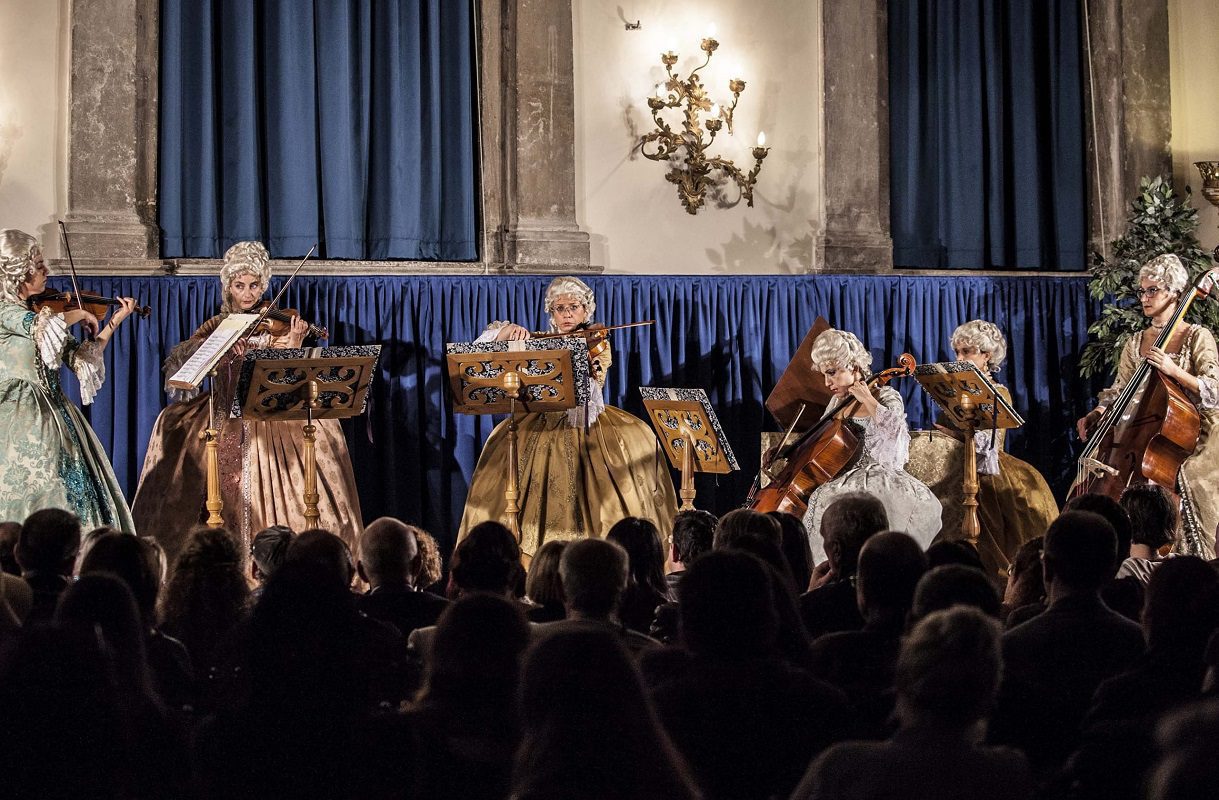 1.The Four Seasons by Antonio Vivaldi
The orchestra I Musici Veneziani offers a faithful performance of this masterpiece by Antonio Vivaldi, the Venetian composer who set the "text" of nature to music. This is clearly one of the most enchanting shows to see in Venice.
2.Baroque and Opera
This show features bel canto, a traditional Italian opera singing technique based on vocal virtuosity. It highlights some of the most famous opera arias by Verdi, Puccini, Offenbach, Rossini, and many more. You will have the chance to see it all in one extraordinary show.
3.Venice Carnival Concerts
Among the shows to see in Venice, these concerts are a tribute to the Baroque musical tradition (not only Italian) and also contain some very famous operatic arias.
4.New Year's Concert
Welcome the new year with the orchestra of I Musici Veneziani, enlivened by the prestigious presence of soprano Vittoria Boldrin, tenor Massimo Cagnin and baritone Nico Mamone.
For more information and to buy tickets for the best shows to see in Venice go to the Concerts page or contact us.