What to do in Venice in the evening? Discover the italian belcanto
Not sure of what to do in Venice in the evening?
Exploring Venice in the evening is a true delight: with fewer crowds than during the day, visitors can enjoy this magical city under the moon, walking through its renowned canals. The best things you can do is, without any doubts, getting lost. This is the only way to stumble upon a romantic bridge or its narrow alleys. But if you wish to plan ahead what to do in Venice in the evening, then try something that you will remember for a life time: a typical Italian Orchestra and singers in XVIII century Venice costumes.
Living the music between art and history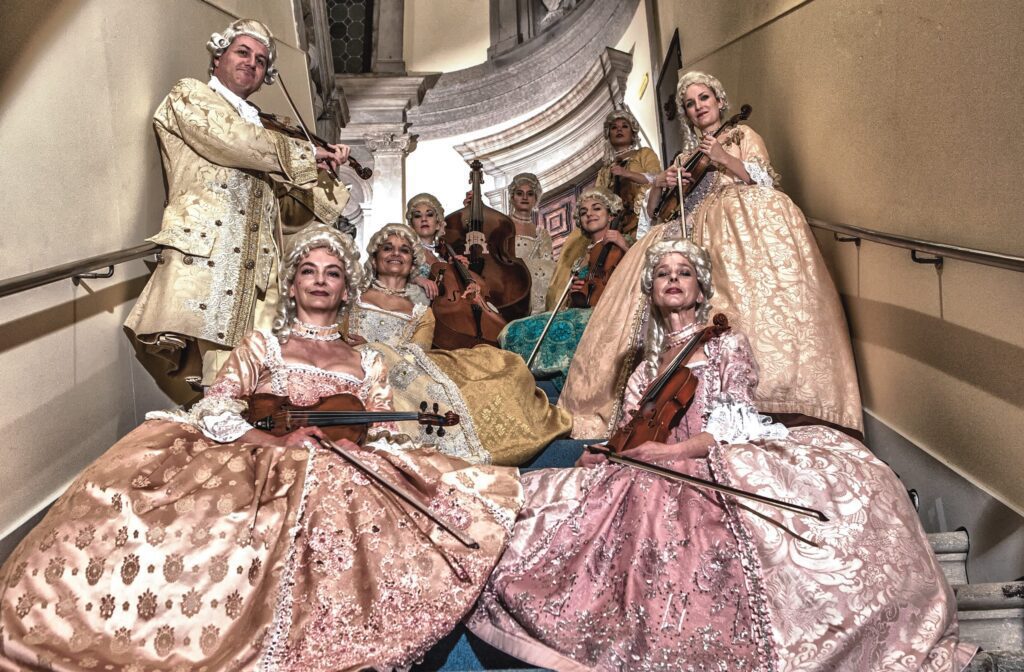 Crossing the threshold of the 16th Century Scuola Grande di San Teodoro for a concert by the I Musici Veneziani is like going on a journey back in time.You will experience a unique atmosphere inside the most prestigious Concert hall of Venice! The warm welcome by the 'moretti' and the 'major domo' (young servants and the butler) dressed in their spectacular period costumes gives the visitor a taste of the festive party atmosphere at the palace.
A twilight ascent of the beautiful Longhena designed staircase, before taking seat in the glorious Capitoline Hall adorned with precious paintings, will give you the opportunity to become immersed in the splendor of the Serenissima Republic.
What is the most popular concert?
Every concert is unforgettable experience, since I Musici Veneziani is the only classical orchestra in the world performing in baroque costumes based on the original models. Specializing in the interpretation of classical-operatic musical production from the 1700 and 1800's, the Orchestra has an excellent reputation for an authentic sound and brilliant interpretation.
Choose Vivaldi´s Four Seasons if you want to enjoy four concerts for violin and strings representing the scenes of nature in music, each inspired by each season of the year.Or even listen to Baroque and Opera and the funfair concerts where I Musici Veneziani perform the most beautiful arias of the baroque tradition and the great music of Verdi and Puccini.
Be prepared for an Italian evening at the theatre with classical music and baroque costumes! But be careful: the addiction factor is high and you may want to come back!